VINYL COMPOSITE TILE DESIGNS
With a huge palette of colors, exceptional durability, and low cost, Vinyl Composite Tile (VCT) is an incredibly versatile and smart choice for commercial interiors. At Kyla Coburn Designs, we believe that flooring is an essential component of your design, and that your options are are limitless and varied as our imagination.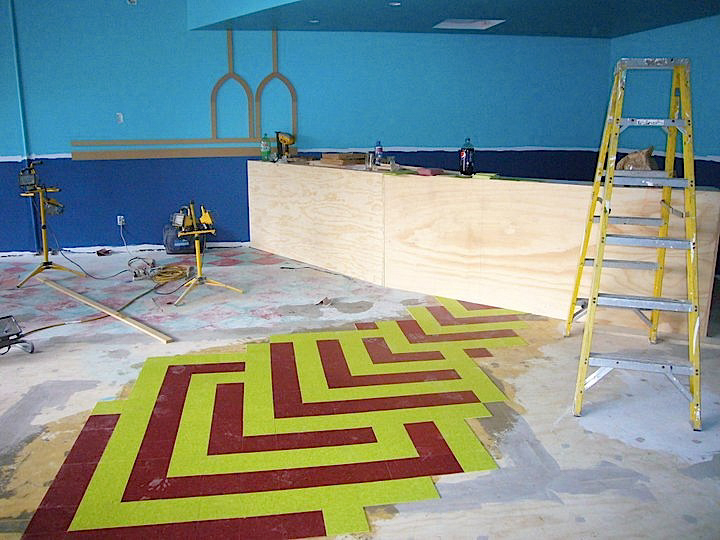 Funky and Energetic Design Adds Drama and Whimsy
We installed this bold floor at The Salvation Cafe in Newport, RI. The geometric design creates drama and a sense of playful whimsy that fits perfectly with the overall concept.
Personal and Emotional Connection to History
We installed this beautiful floor, along with help from the community, at the Providence Black Repertory Theater in Providence, RI. Our inspiration for the design was the story of the Gee's Bend Quiltmakers. We couldn't think of a more appropriate celebration of the unity, uniqueness, and uncommon talent of the members of the repertory - actors, producers, writers, stage staff - than inviting them to help us create their very own quilted floor.
We were joined in the installation by the community - each person who participated created a section of the "quilt" inspired by the patterns of Gee's Bend.
Sacred Geometry
The ease with which Vinyl Composite Tile can be cut into shapes makes it an ideal material to use when creating intricate and dynamic patterns. We have had the opportunity to create several floors inspired by the sacred geometry of ancient cultures, applying a modern color palette and design sense.